Project Description
I've known and worked with Carlos Lobo and the late Oliver Krietsch-Matzura for years. But up until the point, when we first talked about this short film, I never directed a film, in which they acted. Also, even though they had been friends for years, they never acted together in a film as well. So, I wanted to change that and also try out a new genre: A psychodrama. No comedy this time.
The Story
It started with the idea of two people being stuck in a room, because someone or something had locked it. The inevitable ending of this would have been a gory mess and there was no money for that.
But after all those comedies I did I still wanted something dark. I had read this story about a homosexual guy, who noticed that while he got older and older the males he found attractive weren't. He realized two things: He was a pedophile and would never have sex in his life, because he didn't want to hurt little children. His every day inner conflict of the mind fighting the (sick) bodily urges interested me. I wondered how he could live with all the desperation and how he could make sure that he never has one weak moment. Because we all know that we have them.
While writing on the sixth or seventh revision of the script, I suddenly remembered that story and then I knew what to do with the setting I had:
An average German apartment that could be in any German city. White, bright walls, some pictures on the wall. This is not a place where you would imagine bad things happening. This should be a happy place. The perfect place for my story.
Inspired by Michael Haneke's films such as "Funny Games" (1997) or "The White Ribbon" (2009), Never Gone leads you into a mind that fights an enduring fight. A fight that is hard to win. But losing may not be so bad after all.
Never Gone gives you an idea of how it could be to fight your inner demons. Simon's demons are just a little bit more frightening than others.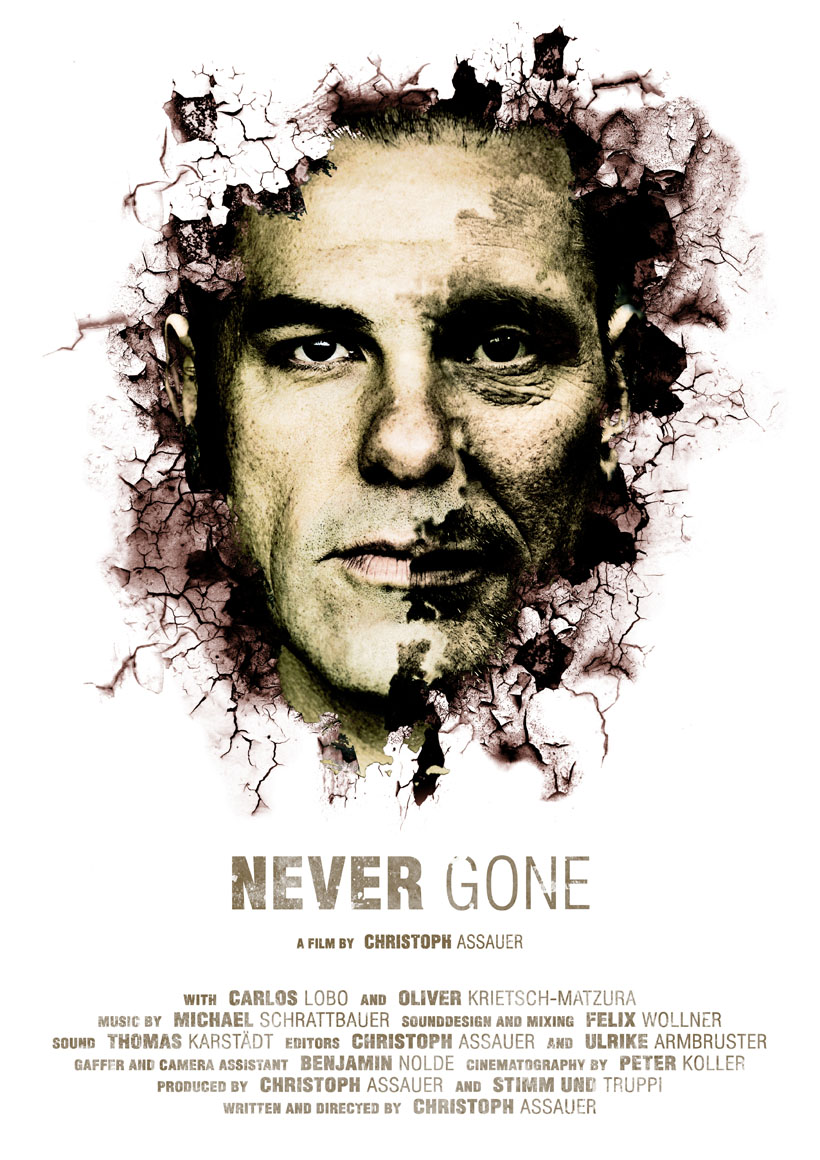 Festivals
Max Ophüls Preis, Germany
Independent Days 13|Filmfest, Germany
14. Landshuter Kurzfilmfestival, Germany
Morbido Film Fest, Mexico
Feratum Film Fest, Mexico (World Premiere)
Cast & Crew
Simon: Carlos Lobo
Raphael: Oliver Krietsch-Matzura
Writer & Director: Christoph Assauer
Producer: Christoph Assauer
Co-Producers: Oliver Krietsch-Matzura & Carlos Lobo
Continuity & Script: Leonie Flora Kiefer
Cinematographer: Peter Koller
Gaffer & Camera Assistant: Benjamin Nolde
Color Correction: Peter Hacker
Sound Recording: Thomas Karstädt
Sound Recording Assistant: Meelah Adams
Sound Design: Felix Wollner
Composer: Michael Schrattbauer
Editors: Christoph Assauer & Ulrike Armbruster